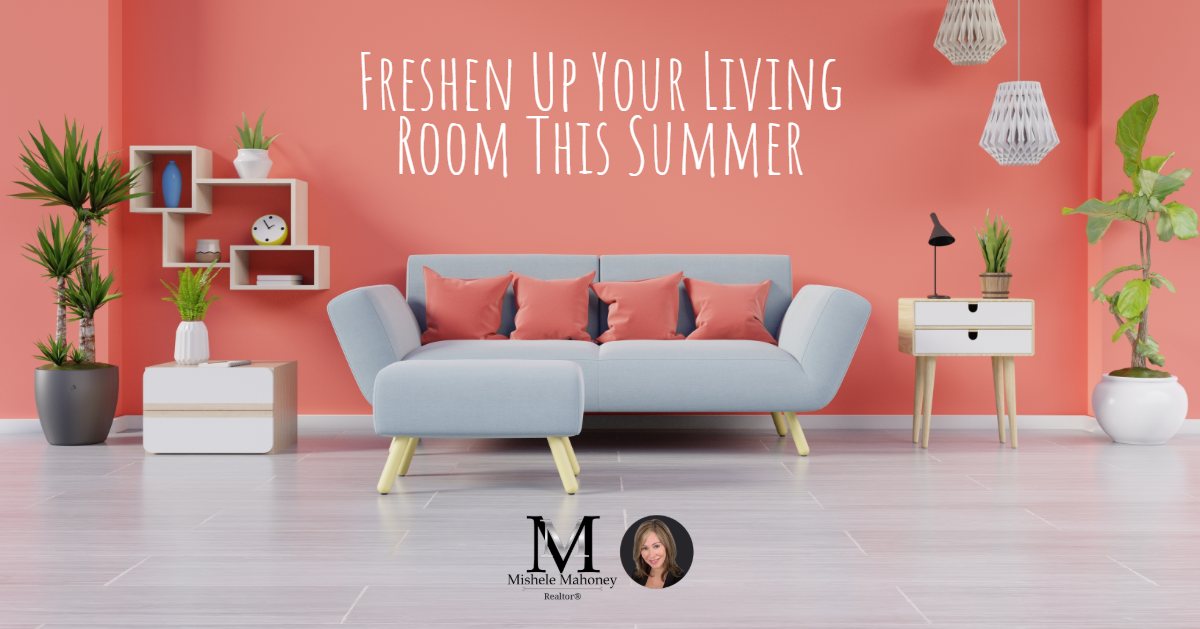 Ahhhhh...summer...time to open up the windows and doors and let some fresh In!!!  
Summer can be the perfect time to freshen up your living room.  Whether its a fresh coat of paint, some fresh new pillows or just simply brightening up your space. 
Here's a few simple tips from Better Homes and Garden that can help Freshen Up your Space!! 
1. Incorporate Textures
Change a 
l
iving room
 with silky pillows and velvet slipcovers for entertaining and corduroy pillows and denim slipcovers for everyday. Consider adding a woven basket or cozy chenille throw.  Various textures suit any style. Here are a few to consider:
-- Traditional--Hand-tufted rugs, woven wools, tooled silver, cut crystal, gilded frames, silk, china, and polished wood
-- Country--braided rugs, worn wood, rusted metals, chenille spreads, ironstone pottery, and blown glass
-- Romantic--velvet, furry throws, crystal prisms, embroidered fabrics, lace, painted furniture, and hand-hooked rugs
-- Modern--laminated-plywood furniture, plastic, smooth leather, stainless steel, terrazzo flooring, and teak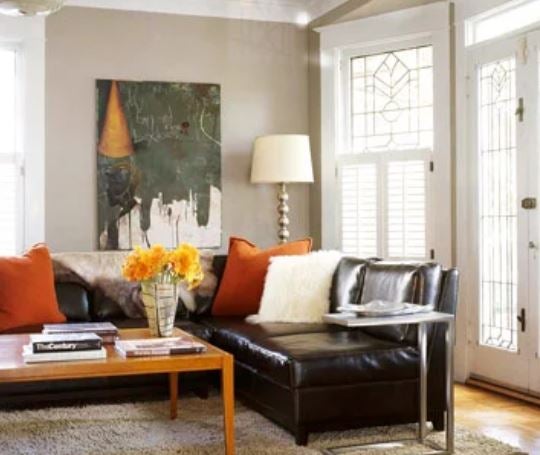 2.  Make a Colour Statement
Wake up a boring room with a bold color statement. If you're shy about commitment but want a quick shot of color, paint one wall; it can provide a color fix and create a dramatic focal point. Then use color throughout the room to keep the look cohesive.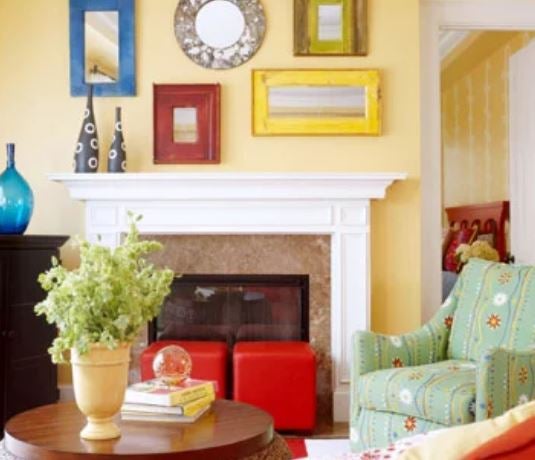 3. Change the Lampshades
Give your 
l
iving room an instant facelift by changing the lampshades--think of these affordable accessories as jewelry for a room. Take your lamp base to a retailer and experiment with the options. There's more than one perfect shade for each base.Boost a ready-made lampshade's personality with a fast, easy facelift. Cut decorative paper to fit your shade--for this unique two-tier shade, we chose two coordinating papers. Slightly overlap the paper at the back, and glue to secure the ends. Punch evenly spaced holes around the top and bottom; then whipstitch the paper to the shade with a thin cord.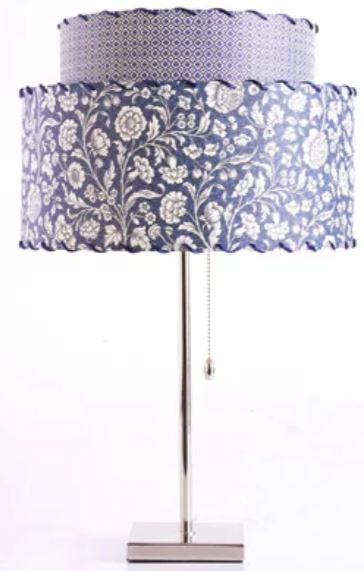 4. Rearrange The Furniture
For a freebie room transformation, move furniture around. Put some pieces on a diagonal or group them into smaller conversation areas instead of letting them hug the walls. Even swapping artwork from another room can create a refreshing change of pace.

Arrange your 

l

iving room to reflect the way you and your family like to live, the location of the room, and its traffic patterns. If the room is designed for conversation, gather furniture around a central point and keep it cozy. If it's used as a serene getaway without a television, add a 

c

haise lounge to complement a sofa. Is reading the main activity? Plan for book 

s

torage, easy chairs, and adaptable lighting. Be sure to allow for access to furniture and a pathway through the space.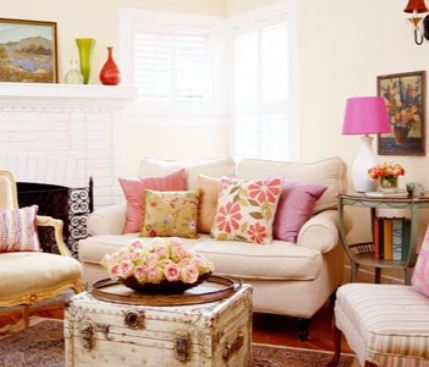 5. Add Pattern and Texture With Wall Paper
Wallpaper is a sure way to inject character into any space. But if you're not ready to wallpaper an entire room, consider papering just a section.  Wallpapered panels can add instant drama to a wall. They're a surprising way to call attention to a piece of furniture, add architecture to a room, or break up an expanse of neutral wall. Select a pattern that complements the wall color, then paper a section of wall.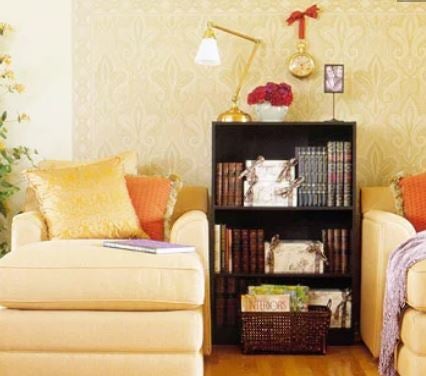 6. Update Your Fireplace Mantel Display
A mantel offers multiple opportunities for style. Experiment with various arrangements on the mantel or update the room's look with a mantel makeover.  Whether you prefer a symmetrical or asymmetrical look, visually balance your mantel display. Take time to arrange your pieces in several different ways, then choose the one that's most pleasing. In this asymmetrical display, the smaller square mirror and the two round mirrors create a little less visual weight than the larger mirror and vase. A stack of books on the left side of the raised hearth brings needed equilibrium.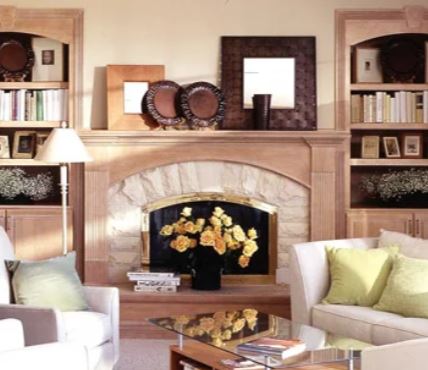 7. Solve Problems With Window Treatments
Window Treatments can be problem solvers. Fabric treatments can soften angular walls, make windows look taller and wider, save space by tucking inside the window frame, and add visual inches to a low ceiling.Here, chocolate-brown drapes and soft shades pair up to enhance the casual style of this cottage-inspired living room.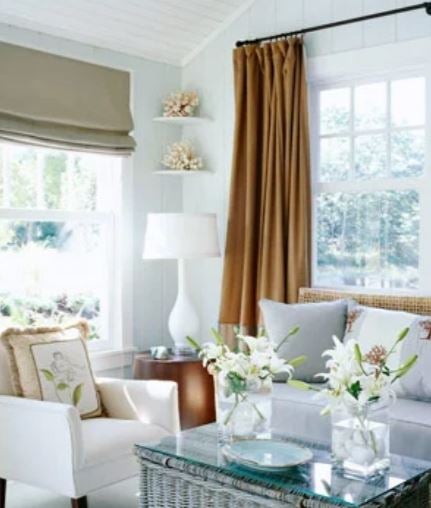 8.  Add Built In Storage
Built-in cabinetry sets the style for a living room or family room while providing much-needed storage for books, games, and media gear. In fact, built-ins rival fireplaces as a focal point. From floor to vaulted ceiling, bookcases set the style in this family room. Same-size rectangular cubbies keep the bookcases looking organized.Stretching the bookcases to the vaulted ceiling makes the room look bigger. The furnishings include an inviting mix of classic and modern that feels warm but not stuffy.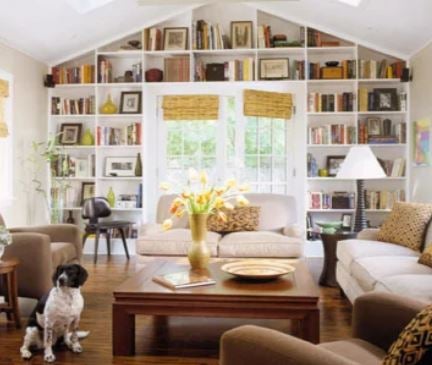 9. Set Tone With Artwork
Use original artwork to add personality and create a focal point. Here, dramatic art and accessories give the room design attitude. For a cohesive look pair similar colors and shapes.The lime-green tones and rounded lines in this artwork are a dramatic contrast to the streamlined, neutral-color furnishings. The artworks' curvy lines are echoed in the round shapes of the tabletop accents and ottomans.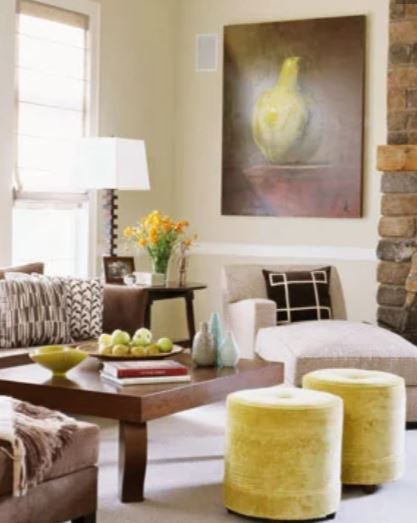 10.  Add Personality with Accent Pillows
Accent pillows let you quickly alter the personality of a room and shift the balance of color. And because pillows are readily available and easy to work with, don't be afraid to experiment. Bring home more than you think you'll need and try out several combinations before settling on a style.For maximum impact, you'll want to vary the shape, size, and color--perhaps even adding a pattern or additional accent color to the mix. Look for designs that incorporate the room's key colors.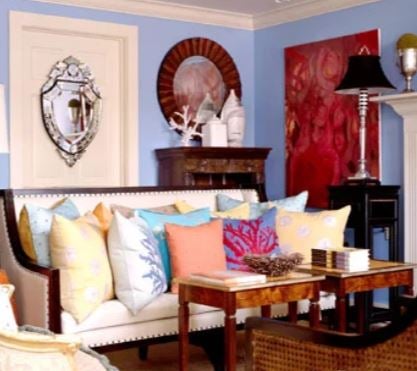 Happy Freshening!!